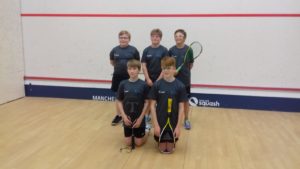 Boys under 13 Intercounty Championships
It was a first step into national intercounty competitions for the Shropshire boys under 13 team, with a tough draw pitting them in a group against Durham and Cleveland, favourites Yorkshire and a very strong Warwickshire B side. A team of 5 players had been chosen from a competitive training squad of 8, these were George Allison, Jaydan Ingram, Billy Schur, Fergus Wilson and Ollie Wiser.
The team started very strongly with Billy and George playing their best ever squash. They pinned their opponents into the back corners with lofted drives and lobs and excellent control of the ball. George won 2-0 with Billy prevailing 2-1, Durham and Cleveland were under severe pressure. On the all-glass show court, Fergus and Ollie showed some signs of early nerves and struggled to adjust to the slightly new experience of playing with a white ball. They lost their matches which set up a decider for number 1 string Jaydan. A tight first game was just edged by Durham and Cleveland before Jaydan's opponent took command in the second game and finished the job for the northern county, a 3-2 loss for Shropshire.
The second fixture was against one of the strongest counties in the competition with Yorkshire able to draw on an incredible depth of playing talent developed at multiple large clubs. The Shropshire boys showed great character and really dug deep but lost the first 4 matches 2-0. Final match of the fixture involved Jaydan again. He lost the first game but changed his tactics in the second, taking the ball in short early and aiming carefully for drops and boasts that clung to the side-wall, 1-1. There was a major shock on – Yorkshire had the highest ranked player at the event playing at one – and Jaydan came out fired up for the third game. His adversary countered Jaydan's tactical plan by taking the ball earlier, volleying accurately and maintaining depth. An incredibly disciplined performance from a 12 year-old saw Jaydan beaten, but not down after a very encouraging performance.
Finally Shropshire were up against Warwickshire B, with many of their players familiar from ranking events that out boys have been entering in the Birmingham area. Tired, both mentally and physically, from their endeavours George, Billy and Jaydan were outgunned by their opponents. Ollie and Fergus showed their racket skills and both created fantastic chances to win games but were just unable to cross the line. They made great progress over the course of the day, their final games were their best and they left feeling much more confident in their squash skills.
Despite the negative results it was a wonderful experience for the boys and, with strong competition for places developing, we can take a positive view to the future. England watch out, Shropshire Squash is coming!