The U17 boys played some excellent squash today at the Inter counties in Manchester and doubled the number of points they got last year in the U15's.
It was a tough ask from them, stepping up to U17 and playing strong counties such as Yorkshire and Cheshire in the same pool.  While they did not get any games against these two teams all the boys dug in and got good points and respect from opposition players.
By the final match, they had got used to the pace and had some very competitive games against Lincolnshire. Billy and Fin both got games and all Shropshire players pushed their opponents with chances to turn the tide and win matches.  My man of the match goes to "wild" Bill Rivett who had a cracking game at number 1 in the last.  He put in a very determined effort to force a tight match that could have gone either way.
Excellent spirit, determination and improvement was shown from a great team and next year the Shropshire will be stronger than ever to being a competitive force to fear.
Congratulations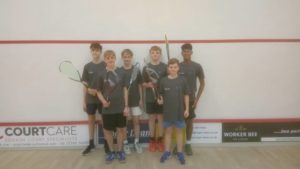 Billy Rivett
Dan Jones
Moyra Wadodkar
Finely Aimer
James Phillps
Tom Parry
Dan Aimer
Club Captain  – Shropshire Squash Club