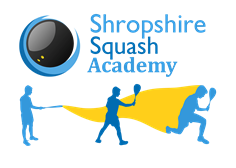 In October Shrewsbury Squash and Racketball Club proudly held the 2022 Shropshire Junior Closed Tournament. There was an excellent level of entrants which really shows what a good place Shropshire junior squash is in at the moment and really reflects the massive and tireless work that Ben Schur (Shropshire Junior Squash Organiser) puts into promoting and developing junior squash across the county. Well done to Shrewsbury Squash and Racket ball Club, Shropshire Squash Club and Lilleshall Squash and Racketball Club for supporting the event so well.
There was a lovely vibe to the whole day and all the parents showed a great understanding of the game which was reflected in the warm support given to all the matches. The general air of positivity was also mirrored in the sky and we were graced with lovely warm and welcoming skies all day long. It was lovely to see so many people taking advantage of the barbecue put on by SSRC.
As usual the tournament was organised by Ian Tanner and everything, as usual, ran like clockwork on the day. A massive thank you also to the event sponsors: Hometyre and Simply Driving Lessons for helping to make the day so enjoyable for players and supporters.
In general, all the participants gave their all and most importantly played their games in a sporting manner. Some stand outs:
The U11s Boys was in particular very competitive and it looks like Frankie, George, Max and Fred will be battling it out on squash stages for many years to come. Well done Frankie for taking the glory this year. The U13s Girls was also very competitive and was eventually won by Cordelia Jones in a competitive final with Jessica Weaver. The U19 Boys final was another highlight. The very talented Jaydan Ingram (winner of U17 Boys) beat Alex Nolan 3-0 but the match was the perfect finale to a lovely day and both boys showcased some great technique, high fitness levels and relentless retrieving to a captivated crowd.
Well done to everyone involved. A super day for Junior squash.